2021 marks the inaugural year of the Sone Horse Festival – NEIGHbour Art Competition. An idea to help make up for no street parade happening this year as well as possibly a fresh approach to the window-dressing competition normally held.
Judges
Sarah English – Scone Chamber of Commerce 

Phil McGuirk – Scone Horse Festival 

Carolyn O'Brien – Arts Upper Hunter
Business Category
Judging was based on 3 main criteria: Artistic Skill, Creativity & Originality as well as Local Connection.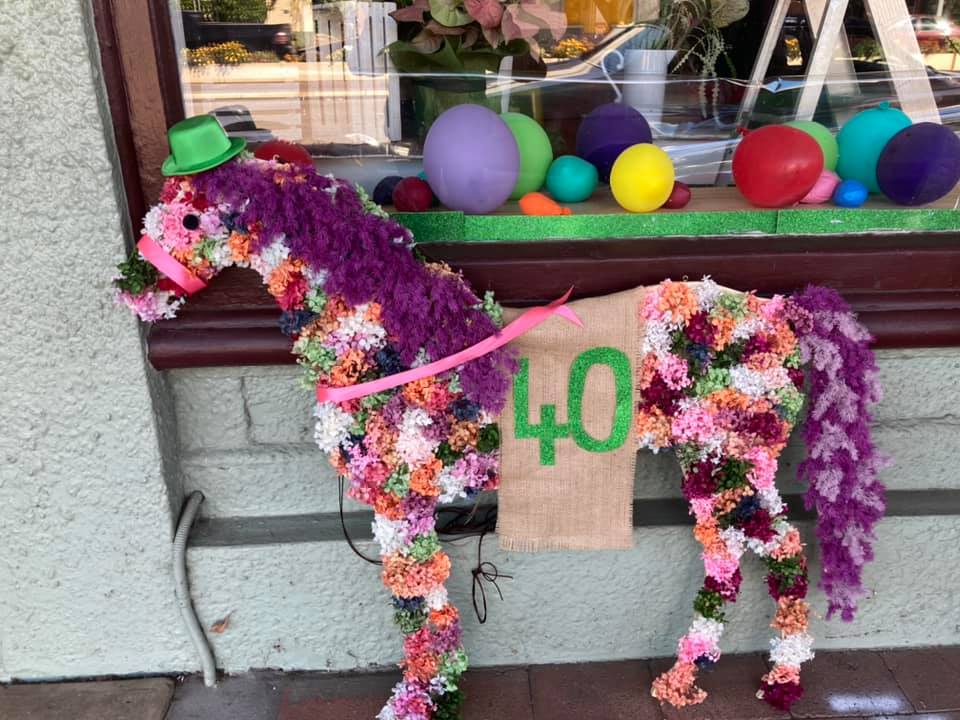 School Category
Judging was based on the signs of Whole School Involvement, School Connection and School Message. While we would like to say that all school, preschool and daycare groups were wonderful, there was one that stood out to all the judges.
Special Mentions 
While there were so many wonderful pieces, a few we would like to make special mention as runners up.
Paradice's

Scone Imaging (Camera Centre)
In order of above, click on the images below to view.
Formal Presentation
A formal presentation will be held on Wednesday 9 June at The Thoroughbred, Scone at 4pm – in front of the Horse Head sculpture. All winners, special mentions and others who have entered the competition, please be sure to bring your horses along for a great photo opportunity and to be awarded your winning ribbons. An event will be posted on the Chamber Facebook for more information shortly.
About the Competition
Scone Horse Festival Committee Member, Teacher and Scone local, Phil McGuirk came along to a Scone Chamber of Commerce Board Meeting with a couple of wooden cut-out horses and pitched the horse art idea to see if he could get some support. Of course, the Chamber were happy to help out – but weren't at all prepared for how well the uptake would be. 
"Phil only had enough timber ready for 50 horses so we all had our fingers crossed that we could get enough interest in the idea. No one could have foreseen the overwhelming response, with more than 200 wooden horse cut-outs sold over two weeks, decorated and displayed throughout Scone. It just went crazy! It was very exciting and so lovely to see the community spirit of Scone take over." Sarah English, Business Development Officer, Scone Chamber 
The Chamber and Phil would like to thank all who helped with the initiative. Firstly, Brad Moran from Moran Woodworking for his hard work making all the horses. To Rebecca Morrison from Upper Hunter Shire Council as well as scone.com.au for helping to capture photos for judging and promoting. To Carolyn O'Brien Acting Executive Director from Arts Upper Hunter for volunteering to help with judging. And of course the whole business and school community for jumping on board.
With Phil's background in art education, as well as Sarah, being the Director at the Muswellbrook Regional Arts Centre for most of 2020, it made it an easy choice for who could help with judging. The team also asked Arts Upper Hunter for a volunteer with Carolyn O'Brien, Acting Executive Director, putting her hand up. 
The Chamber was a little unprepared for the overwhelming success of the NEIGHbour-Art Initiative and apologise to businesses or locals who may have missed out due to the heavy demand. Next year we will be ready and have processes in place to make it easy to purchase horses, as well as have prizes and judging criteria outlined etc. 
Again, we thank everyone for their wonderful efforts and can't wait to see the competition grow even bigger and better next year.