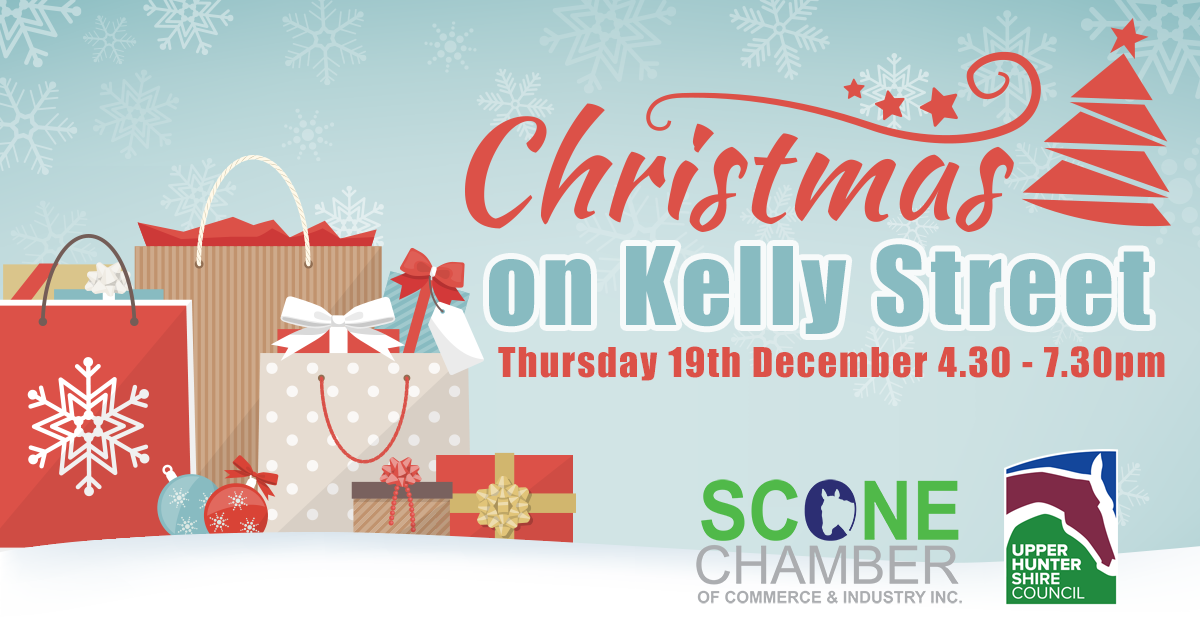 A joint initiative between Scone Chamber of Commerce and the Upper Hunter Shire Council, "Christmas on Kelly Street" will see the main street of Scone come alive for a great evening of Christmas shopping and festivities.
Shoppers will have a chance to win 1 of 3 "We Live Here" Cards valued at $500. To go in the draw, simply make a purchase from any participating retailer between 4.30pm & 7.30pm on Thursday the 19th November. No minimum spend required.
Businesses are also encouraged to get into the festive mood by decorating their shopfronts in a Christmas theme. The Scone Chamber will be awarding one $500 "We Live Here Card" to the business with the best Christmas display. Businesses must be a financial member of the Scone Chamber of Commerce to be eligible to win the prize.
How your business can participate
Participation is easy – simply be open on Thursday 19th December between 4.30pm and 7.30pm and follow these steps when a customer makes a purchase:
Make a record of the customer name and contact details eg. mobile phone. We recommend you purchase a book of raffle tickets for this purpose.
Place the raffle tickets with the contact details in a box.
At approximately 7.30pm a Chamber representative will collect the box and take it to a central location to conduct the draw.
There is no minimum spend required to go into the draw.
All businesses are encouraged to get involved – not just those on Kelly Street!
Trading in Kelly Street will also be allowed on the night between 4.30 and 7.30pm.
If you plan to be open and participate in the promotion can you please let us know by emailing vicepresident@sconechamber.com.au. We will be providing point of sale material as well as promoting the event heavily on social media and other advertising platforms.
How your business can WIN!
The business with the best decorated store or Christmas display on the night will win a $500 "We Live Here" card. The competition is open to Scone Chamber Members. Time to get decorating and win this great prize for your business just in time for Christmas!
Resources