There was a distinctly Royal theme to this year's Scone Chamber-sponsored NEIGHbour Art Competition.
We think you will agree, Rose and Partner's effort (below) to hitch their two-in-hand to a very regal-looking coach transporting Paddington Bear (off to visit King Charles?) was inspired. No doubt 'calculated' to win the winner's rosette and a $100 gift card in the Business category, which will be presented along with those for the other category winners, runners up and those who received a special mention from the judges on Thursday, June 8 at 4pm.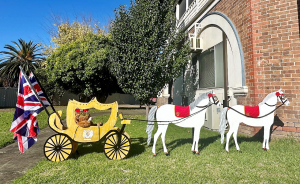 Business runner up was The Happy Tooth, whose entry (below) bore an appropriately toothy Queen Camilla.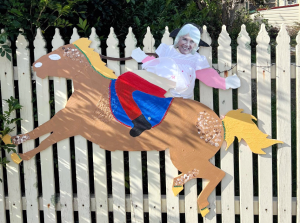 The Schools category followed the regal theme, with Scone Public's patterned effort (below) edging out St Marys –  a tough decision for the judges.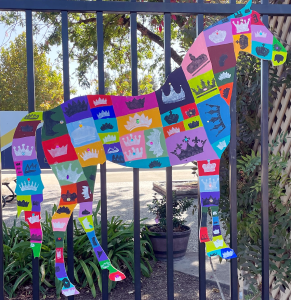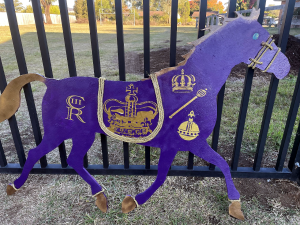 Finally, in the Pre-School category is was less royal and more royal flush for the Upper Hunter Early Learning Centre, which hedged their bets with a twin entry. Queen of the turf, Winx came in at an unaccustomed second place for Scone and District Pre-School, beaten by a nose.
Receiving special mention were (in descending order) Scone High School, Scone Garden Club, Prologic Accounting, Sergate Fleet Hire, and Strathearn House (Glenbawn Cottage).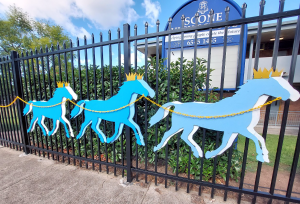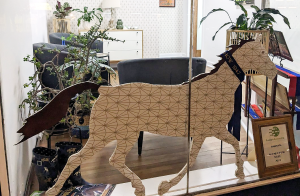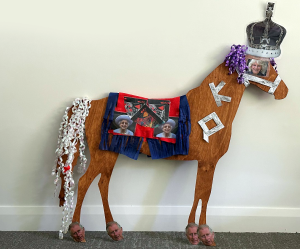 There were so many great entries in the field this year and the Scone Chamber's executive wishes to thank all those who entered into the spirit of the competition by buying and decorating an entry – in some cases, several.
Thanks also go to Brad Moran, who produced the timber cut-outs, and Phil McGuirk who helped to organise the event once again this year.