THE long-awaited revitalisation of Scone's CBD is officially underway. First up will be improvements to two blocks from Kingdon Street to St Aubins Street and a new park in St Aubins Square. Inevitably, the project will cause access problems for some businesses, but the Chamber feels that the long-term gain will be worth the short-term pain. That said, the council is committed to working with business owners adversely impacted by the work. Your point of contact is Chloe Leake on 6540 1321. You can also sign up for project updates.
IT'S all go at Scone Race Club's Centre of Excellence. Following our recent networking evening to update members on the $35m project, NSW Minister for Racing Kevin Anderson was in Scone a week later to inspect the site and turn the first sod. Race club CEO Steve Keene said the Chamber's networking event received great feedback and he plans to host another once construction gets underway – hopefully before the end of the year. The two-stage project includes 300 stables and an artificial training surface, which will mean jobs and business opportunities for Upper Hunter companies.
MEANWHILE, the State government has announced it will spend $102 million redeveloping Scone's Scott Memorial Hospital if re-elected. More good news for both the people of the Upper Hunter and the business community. Read more.
OUR sell-out Women's Week event at The Cottage earlier earned the Chamber lots of positive feedback from the 40-plus Upper Hunter women who attended. Our thanks to Julianne Christopher, Kieralee Harvey, and Chamber board member Rachael McGuirk, the three Hunter women who shared the stories of their sometimes rocky road to business success. And thanks too to Chamber treasurer Jane Ryan and Gro Events Group's Dimity Smith for securing the $5000 grant from Women NSW that made it possible. Read more about the event and see who attended.
HAVE you activated your Chamber account and updated your business profile in the Chamber's Business Directory? Chamber members and other potential customers use the directory to search for local firms that provide goods and services like yours. You can also use the events tab on your account's home page to list an event and sell tickets. We'll promote it through our social media and newsletter, too.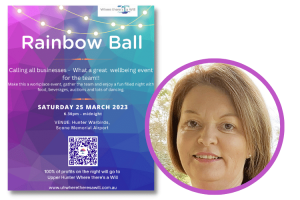 THE executive officer of Where there's a Will's, Catherine Wendell (inset) took up our offer and asked us to promote this wonderful local charity's upcoming 2023 Rainbow Ball to the Upper Hunter's business community. Happy to help a good cause, Catherine!
SCONE AND MURRURUNDI CLEAN UP AT AWARDS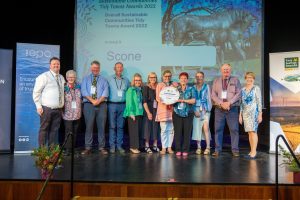 SCONE and Murrurundi have been named overall winners for their population category at the Keep Australia Beautiful NSW 2022 Sustainable Communities Tidy Towns Awards, with Scone being crowned the overall winner in NSW. The Chamber congratulates everyone involved with these fantastic achievements. Read more. Next up, the local committee will host the Tidy Towns judge in Scone in early April in a bid to win the national title and will be calling on the support of the business community. More on this soon.
DIG OUT THOSE PAINT BRUSHES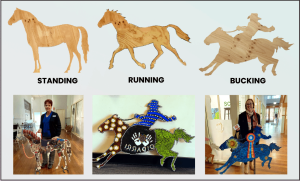 WILL your business' painted pony be a winner in the NEIGH-bour Art Competition? It's your chance to show your artistic flair and your support for Scone's iconic Horse Festival (May 4-14).
The timber horse cut-outs will go on sale soon via a page on our website.
Choose from three styles – standing, running or bucking. You can purchase and enter more than one horse. Then, decorate your entry in your corporate colours using paint, ceramics or fabric. – or all three.
Sponsored by Scone Chamber, the completion brings together the Upper Hunter's business and school communities. Each sector will compete for the bragging right of claiming Best Decorated Horse, as well as pocketing one of five $100 'We LIVE here' gift cards and a winner's ribbon to pin on their entry.
The Chamber hopes to see whole herds of painted ponies around the Upper Hunter.
COUNCIL SEEKS SPONSORSHIP PARTNERS
UPPER Hunter Shire Council is inviting local businesses from across the shire to sponsor its facilities and infrastructure. Council has released a prospectus that outlines the opportunities to have your brand linked to major events that 'celebrate significant holidays, culture and heritage, and bring the Shire and surrounds to life'. For more details, contact Bek Durietz on 0438 292 652.
MEET OUR NEWEST MEMBERS
A WARM welcome to Scone Chamber's two newest members.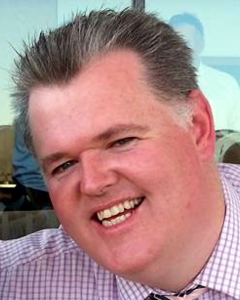 Julian Timmins owns Mazing Merch, a boutique promotional product agency that specialises in delivering innovative solutions to meet your merchandise needs. You can contact Julian on 0401 034 700 or reach him by email at jules@mazingmerch.com.au. Read about Mazing Merch.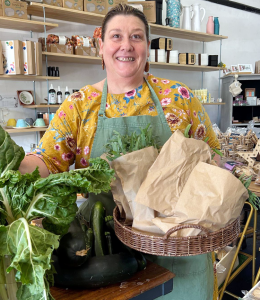 Bec Kennedy is the owner-operator at Green Seed Grocer at 131 Kelly Street, Scone. Bec describes her store as 'a little shop dedicated to making environmental choices more affordable, accessible and sustainable'. Drop in for a chat or contact Bec by email at Greenseedgrocer@gmail.com. You will also find her on Facebook and Instagram at greenseedgrocer
DISCOUNTED JOINING FEE FOR CHARITIES AND NFPS
LOCAL charities and not-for-profit groups are the lifeblood of their Upper Hunter communities. So, Scone Chamber's executive has voted to offer these great local organisations associate membership of the Chamber for $55 – half the normal annual fee. To take advantage of this offer, please contact our office on 0400 799 687.
REGIONAL GRANTS
Energy Efficiency Grants for Small and Medium-sized Enterprises – Round 1
Closes: 19th of April 2023 – 5:00 pm
Value: $10,000 to $25,000
Run By: Australian Government Department of Climate Change, Energy, the Environment and Water
This grant program supports businesses to upgrade or replace inefficient equipment to improve their energy efficiency. Read more.
Emerging Industries Capacity Building Travel Grants
Closes: 22nd of March 2023 – 12:00 pm
Value: $2,500 to $5,000
Run By: AgriFutures
This grant will provide individuals within Australia's emerging industries with the opportunity to carry out self-guided peer-to-peer capacity-building activities to further their knowledge and skills, and further the growth of their emerging industry. Examples of peer-to-peer capacity-building activities can include:
• Tours (domestic & international) to investigate potential supply chains.
• Visiting farms of producers in the same or different industries.
• Attendance at an organised conference or event and associated workshops/tours
Read more.
Digital Solutions – Australian Small Business Advisory Services Round 1
Closes: 31st of March 2023
Value: Individualised support
Run By: Australian Government Treasury
Specialists work with small business owners to adopt money-saving digital tools, and to help them grow their business. Read more.
Fee-Free Traineeships NSW
Closes: 31st of December 2023
Value: Unspecified
Run By: NSW Government Department of Education
Traineeships are a proven pathway to well-paid jobs in a diverse range of careers. These courses are free in NSW. Read more.
Get Connected Listing for Tourism Businesses
Closes: Ongoing
Value: Free website Listing
Run By: Destination NSW
Provides tourism operators with the opportunity to showcase their tourism products on Destination NSW's consumer websites for free. Read more.
New Enterprise Incentive Scheme
Closes: Ongoing
Value: Income Assistance and Advice
Run By: Australian Government Department of Employment.
NEIS is a program delivered by a network of 21 providers who offer job seekers individualised help to become self-employed business owners. Read more.
Business Connect
Closes: Ongoing
Value: Advice and Support
Run By: NSW Government
A dedicated and personalised NSW Government program that provides trusted advice to help you start or grow your small business. Read more.
GO GLOBAL WITH AUSTRADE GRANT
THIS grant helps small to medium-sized Australian enterprises to market and promote their goods and services globally. The good news is that all eligible applicants receive a grant. Read more.
RETURN TO WORK SUPPORT
ORGANISATIONS with projects that empower women and reduce barriers to them entering or re-entering the workforce can now apply for funding to implement tailored programs, as part of the Return to Work Pathways Program.
Funding from $100,000 to $250,000 is available, depending on the project model, the number of participants to be supported, and the level and intensity of services and support they receive. Applications close on April 11. Read more.