Media Release supplied by Upper Hunter Shire Council.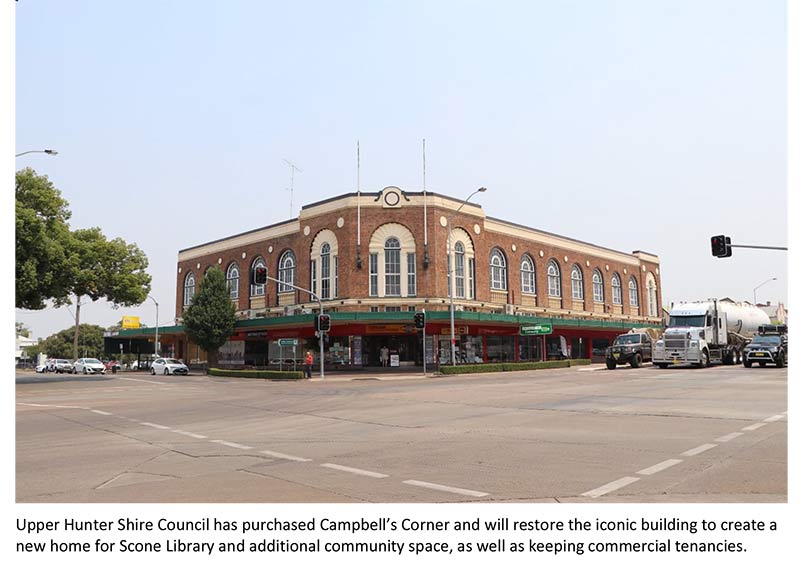 Upper Hunter Shire Council has exchanged contracts to purchase Campbell's Corner at 167 Kelly Street, Scone for $3 million. Council plans to restore the iconic building and eventually create a new home for Scone Library and additional community space.
The majority of the two storey building will still be commercially tenanted with existing businesses expected to remain.  Campbell's Corner is listed as a heritage item of local significance under the Upper Hunter Local Environment Plan 2013.
The 90 year old, brick framed building with a sweeping timber staircase, will undergo an estimated $1.8m restoration, staged over ten years. The biggest components are replacing the roof and repairing the facade. Other upgrades will include lighting, fire services, hot water services, and ventilation.
Council will take a $3.5m loan to purchase the property and undertake the first stage of essential repairs, and will seek grant funding for the construction of the new library space. The building will provide Council with a commercial revenue stream.  This income, coupled with the saving realised by not having to pay rent on the current Scone Library, will go towards offsetting the cost of servicing the loans and ongoing operational costs.
General Manager Steve McDonald said the building deserved restoration and would complement the revitalisation of Kelly Street.
"Campbell's Corner needs work and Council will ensure the building is lovingly restored, creating a permanent home for a state-of-the-art library and other multipurpose cultural spaces for the whole community," he said.
"Rescuing an old building is not cheap and takes time, but in the long run, the community will own an historically important landmark, a permanent and expansive library, and stunning spaces for community and commercial activities.
"The restoration of Campbell's Corner will complement the planned revitalisation of Kelly Street post-bypass, but will be funded independently of that project," Mr McDonald said.
"The Scone building was the fourth Campbell and Co's department store building constructed in the region. In 1870 Malcolm Campbell built a two storey store in Muswellbrook and the Campbell family lived in the top floor. Muswellbrook Shire Council purchased that Campbell's Corner building a few years ago and have undertaken extensive renovations."
Upper Hunter Shire Council has been in negotiation with the owners of the building for two years, in an 'off-market' transaction, which has been kept commercial-in-confidence.
The decision to negotiate to purchase the building – subject to due diligence and Office of Local Government Capital Expenditure Review – now completed – was made by a majority of Councillors at the January 2018 Ordinary Council Meeting, and confirmed at the July 2019 and October 2019 meetings. These were closed meetings as the negotiations were commercial-in–confidence.
Council's current Operational Plan 2019/20 lists an action to "investigate options for the development of a new library in Scone" and includes the purchase of a building in Council's budget.
Continued..
A Due Diligence Review including financial, building, zoning, tenancy and insurance assessments was conducted by external consultants, Prosper Group. The technical report on the state of the building and required repairs, was conducted by KPMG.
A Capital Expenditure Review was submitted to the Office of Local Government (OLG) for review, and approved. The key financial and due diligence information, in particular estimated rectification costs, is available on Council's website http://upperhunter.nsw.gov.au/your-council/media/strategic-asset-purchase-project-updates.aspx
There are currently several commercial vacancies in Campbell's Corner which Council will be seeking to fill.
There is a total lettable area of 2680m2 (or 75%) including a ground floor with ten shop spaces, common areas and amenities, and an expansive second storey with two current tenancies. There is also a vacant basement space and 63 space car park and loading dock.