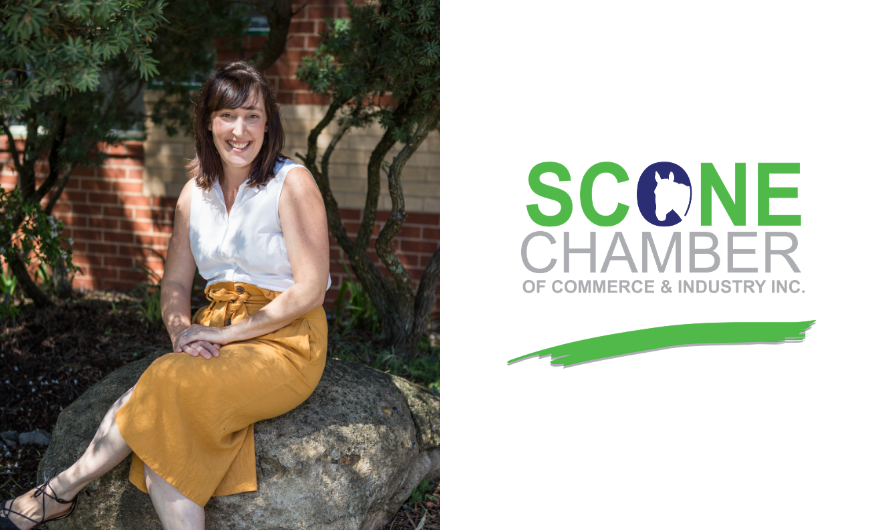 Scone Chamber of Commerce and Industry are passionate about creating opportunities for businesses to grow and thrive. With this in mind, The Chamber is pleased to announce the recent appointment of their new Business Development Officer, Ms Sarah English. After a long stretch of time having limited access to the required fundi
ng to appoint such a position, Local Buying Foundation has partnered with The Chamber to fund an experienced and skilled Marketing and Business Development professional who will be on the ground supporting Chamber Members, as well as supporting the Board in their plans for the future.
Originally living in Newcastle with her young family, Ms English, along with her husband and two young children, moved permanently to the Upper Hunter in January 2020. '2020 was an interesting year to be a newcomer. I feel very privileged to be given this opportunity in the current economic climate and hope that I can be a great support to local businesses and The Chamber'– Ms English says. 
With a strong Marketing and Communications background, Ms English holds a Businesses Degree in Marketing and over 10 years of working experience in varied Marketing and Specialist positions. Sarah understands the needs and challenges of small business owners in the region, which she believes is bound to be of great value to Chamber Members. 
'Along with Sarah's obvious wealth of experience and skills, her generous nature and enthusiasm for community was one of many reasons Scone Chamber knew she was going to be a great fit for the organisation. It will be wonderful to have someone highly capable on the ground helping to execute the Board's vision and connect with Members. I think the Members are going to really like her too'.  Steve Guihot, Scone Chamber President. 
Scone Chamber of Commerce and Industry