It has been lovely to reopen the office and the return of our Business Development Officer, Sarah English who is thrilled to be out of the house and meeting with members and businesses once again. There is a lot happing in the month ahead, keep reading to find out the details of our new Board, our upcoming Christmas party, local election 'Meet the Candidates' event, as well as updates to Covid support measures.
COVID Update  
The roadmap to reopening is well underway and with the state now at 90% fully vaccinated, and the Upper Hunter one of the highest vaccination rates by LGA in the state, we are excited to see businesses start to rebuild and renew what will hopefully be the beginning of a brighter future for all.
While Applications for 2021 COVID-19 business grants, the COVID-19 micro-business grant and the JobSaver payment are now closed, if your business or not-for-profit organisation was not eligible or your application was refused for in 2021 on any of these, you may still be able to access financial support. We cannot say it enough, please do not self-assess and contact a Services NSW Business Concierge to help you through the process of government support. You can also submit your details to the COVID-19 business Hardship review panel.
In-case you missed it, in response to the faster-than-expected rate of vaccination, the NSW Government will further ease rules for those who are fully vaccinated by bringing forward many of the roadmap changes scheduled for 1 December to Monday 8 November. Restrictions will ease further when NSW reaches 95% double vaccination or on 15 December 2021, whichever comes first. Find out about how NSW will be opening up. For updates on the road map keep an eye on the Services NSW Roadmap. 
Remember to keep an eye on our Covid Support Page for more information on the latest.
Chamber Christmas Party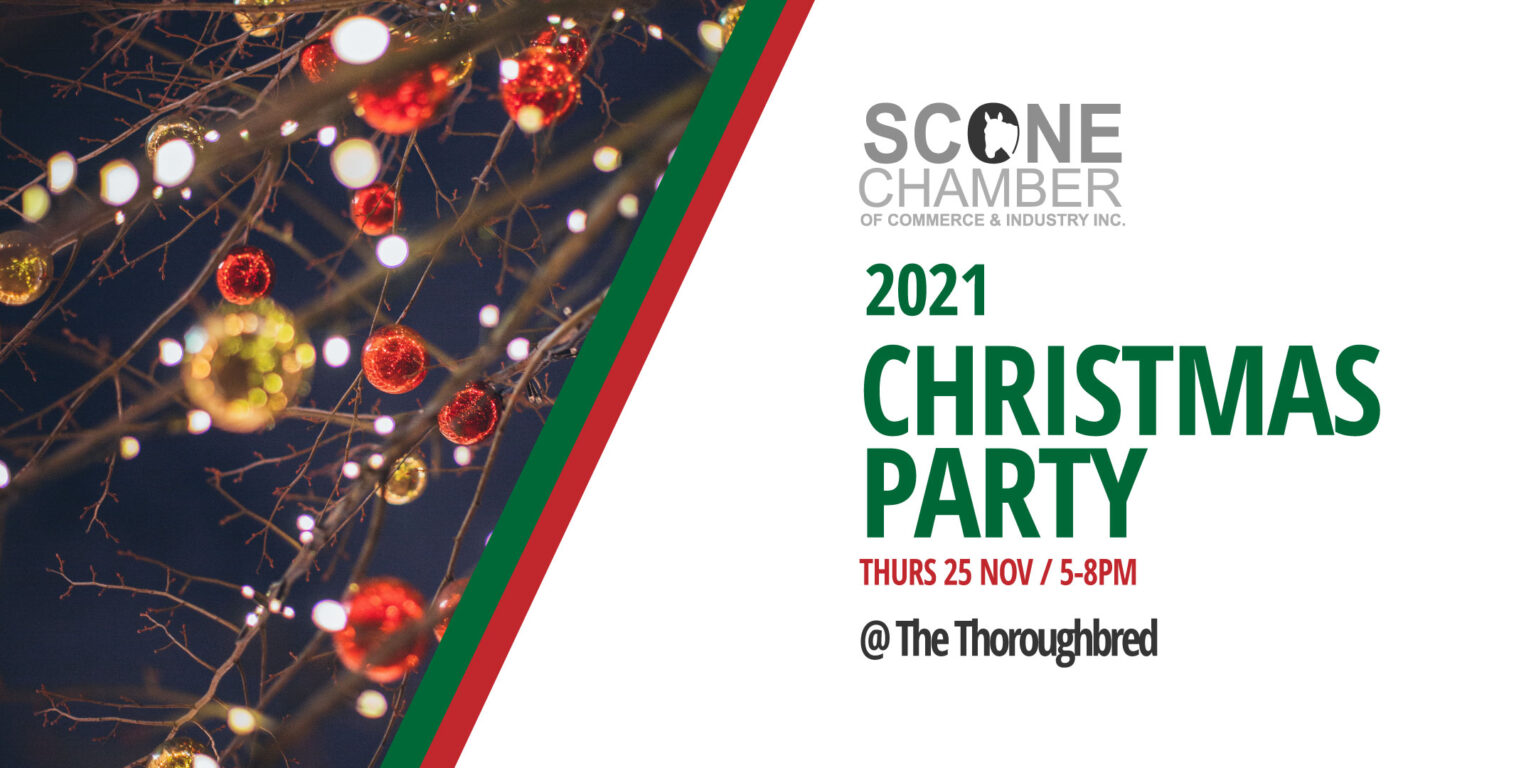 It's been a while since we've all been together. We would love to take this opportunity to thank you all for your ongoing support by bringing the community together and celebrating the things we are all grateful for.
Generously, we have been offered the back section of the Thoroughbred Hotel, so children can play while we enjoy a few drinks, great food, live entertainment and hopefully lovely Summer night weather.
DETAILS
The Thoroughbred Hotel
Finger food, live entertainment and a few drinks
Thursday, 25th of November from 5-8pm.
Members $30pp
Non-Members $40pp
All welcome – bring the whole family
Theme: Christmas Cheer!
We look forward to seeing you all there.
Tickets available online
Christmas Gifts – Why not Buy Local
What is the best gift you can give your beloved town of Scone this year? To spend locally in Scone of course!
We are encouraging all employers to purchase local 'We Live Here' gift cards for your staff's Christmas gift or bonus this year to help boost the local economy and support local business.
Let's encourage everyone else to do the same. We would love to hear your stories about local giving this year. Hashtag #SconeChamberChristmas on what you are doing to encourage and support local Christmas gift-giving. It's the little things that make all the difference to small businesses.
Local Election – Meet the Candidates
The Chamber will be holding a 'Meet the Candidates' forum on Tuesday the 30th of November at the Scone RSL. Each Candidate will have a short time to talk about their position and answer questions. To register please visit our event page.
You must register to attend.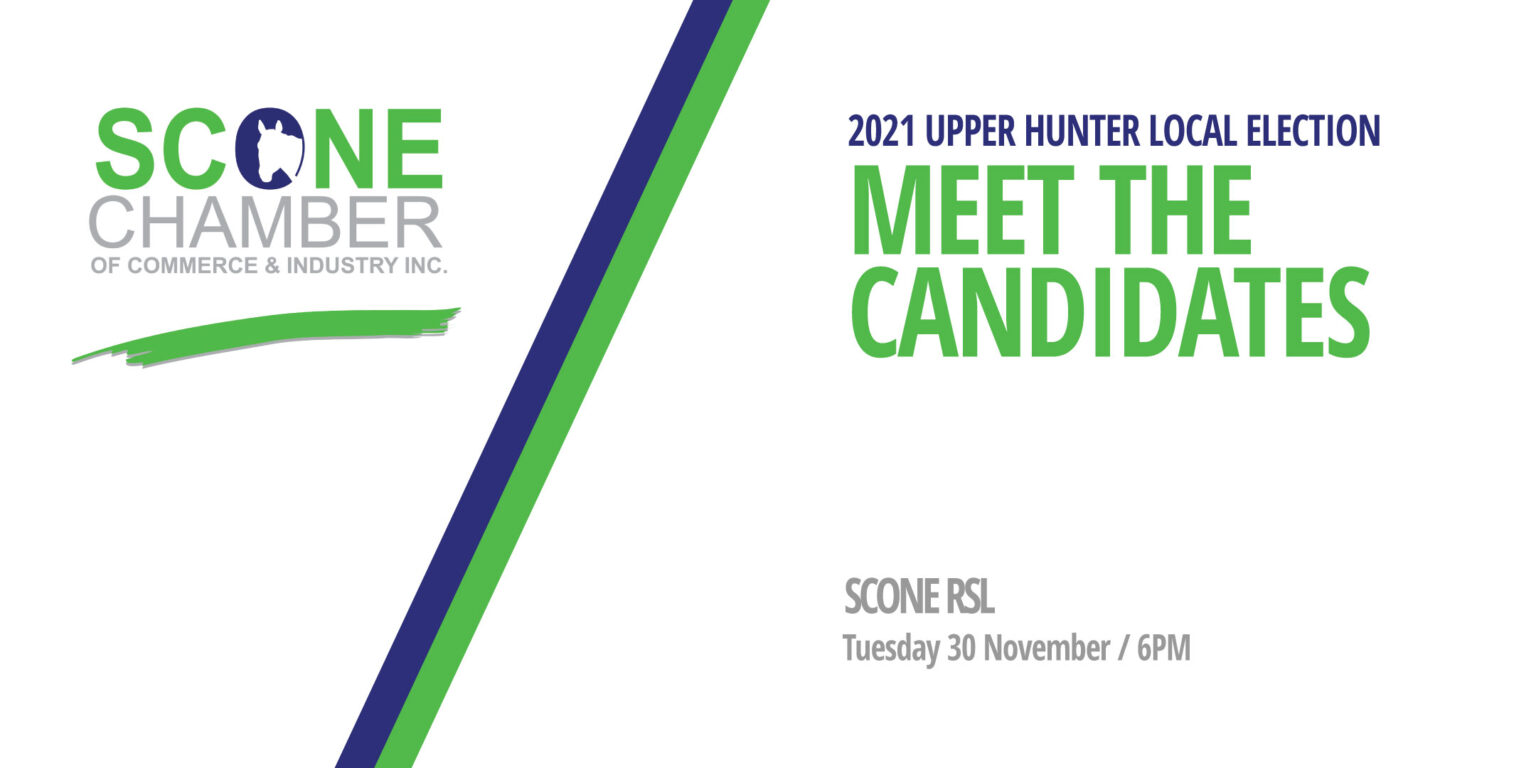 2021 is election year with the communities around the state going to the polls on 4 December 2021 to decide on their Council elect for the next three years. A total of 124 councils will be holding elections on Saturday, December 4 after the NSW government made the decision to postpone the elections amidst the state's COVID outbreak in July, 2021.
Residents of the Upper Hunter Shire LGA will vote to elect nine councillors who, once elected, will similarly determine the mayor of the shire at the council's first meeting following the election. Postal vote applications can be lodged with the NSW Electoral Commission from Tuesday, October 26.
The Scone Advocate has put together an article with a Bio on each which you can read.
Exciting Plans Ahead
The Chamber is currently working on some big project proposals with various funding bodies to help support and better meet the needs of our members and the local business community, through the COVID recovery roadmap and beyond. After much research and review, the Chamber has identified that many local businesses are in need of becoming more digitally ready as well as require more support in future-proofing their business for digital change. Along with this, opportunities for further education, training, and mentoring facilitation in the digital space and in the areas of Business and Marketing more generally.
Once we have the funding approved and the details confirmed, we will be announcing the exciting projects we hope to launch designed to address these various needs. We can tell you, however, that these will potentially include increased technology, better website and member portal functionality as well as some exciting mentoring and training programs for both our members and the wider business community. We cannot wait to formally announce these initiatives in the coming months.
Scone Cup Half Day Holiday Survey
Upper Hunter Shire Council is seeking the community's feedback on whether to support a half-day public holiday for the Scone Cup in 2022 and 2023.
Have your say on whether you, as a business, would like the half-day public holiday to continue. The survey closes on November 16 so be sure to get your feedback in soon.
Programs of Interest
Innovate with nbn™ Grants Program
NSW Accommodation Support Grants
Events Funding and Tourism Grants
BECOME A MEMBER
The Scone Chamber relies on memberships to exist. By becoming a member, you are helping a local organisation support local business. Chamber memberships also help to build a strong and connected local business community – whereby we are all working together. Membership is only $110 per year and comes with an array of Member benefits, where our members always come first.