It has been a big month here at the Chamber and in the Upper Hunter overall with March hosting Small Business Month, Warbirds over Scone, The Upper Hunter Show and more. We have lots of great stories to share. With May heading into Scone Horse Festival, there seems to be no stopping in sight for our community and local businesses any time soon. We hope this busy time will be a good boost for our local businesses and bring some much needed patronage in what has and continues to be a challenging time.
Small Business Month
Small Business Month is officially complete and what a wonderful month it was. Workshops and an Expo to start with as presenters and trade stands from across the region came together to take part. We thank everyone who took part and loved seeing some of our local businesses really engaging in some inspiring professional development.
Next up was our incredibly special (and delicious) Murrurundi Breakfast, co-hosted by our friends at The Murrurundi Collective. With a huge effort from the team, we pulled together local producers and speakers from all over Murrurundi to host what was a delightful event. Scone local and owner of Plants on Main, Lynda Posa, spoke about her experiences and gave us all some insight into the running of a successful small business. Murrurundi Collective Founder, Amanda Riordan, also shared her passion for the new project, which is the Collective. The morning all came together with businesswomen and Collective committee Chair, Janie Jordan, who kept us all engaged with her wonderful MC-ing. This is certainly a wonderful space to be keeping our eyes on. Well done everyone.
Finally for Small Business Month was a spectacular Finale Dinner with Lucy Bloom. The dinner was certainly a major highlight with over 40 businesspeople coming together for a great night of great food, wine and networking. And Lucy did not disappoint, delivering a great presentation.
The Chamber would love to thank everyone who helped pull Small Business Month together including our sponsors, partners, suppliers and volunteers.
Thank you AGL, NBN Co, Upper Hunter Shire Council, The Murrurundi Collective, LivMedia, Skilldare, Hunter Region Business Hub, RAMHP, Scone Race Club, Scone RSL, The Business Centre, TAFE NSW, Training Services NSW, Services NSW Chocolate and Moss, Chalked Up Furniture Paint.
If you attended any of our Small Business Month initiatives we would love your feedback by filling in this 5 min survey.
NEIGHbour Art 2022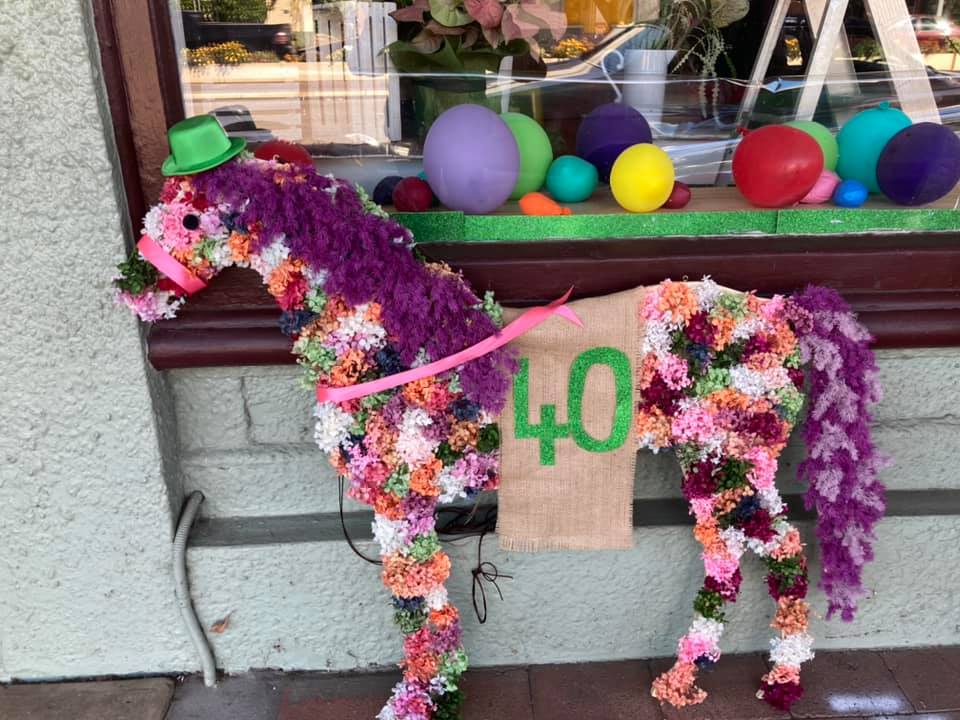 Scone Horse Festival's NEIGHbour-Art Competition is a time where the local business and school community come together to celebrate Scone's rich horse heritage and the Horse Festival by decorating wooden horse cut-outs and displaying them proudly across Scone. After such a successful pilot campaign ran in 2021, the Festival and Chamber are partnering to include the competition in the Horse Festival program each year.
Order and pay for your wooden Horse cut-out from The Chamber online using the link below. All orders must be made by April 8.
To take part in the competition you must take a photo of your final horse artwork and submit to the Chamber. This will be open from April 25.
Prizes to be announced!
1on1 Mentoring – Marketing
We are excited to finally launch our 1on1 Marketing Mentoring Program for our members. Partnering with our local Marketing Agency LivMedia, we currently have a small pool of funding to provide this service to those most in need, at no or little cost to your business. To get a better idea of those interested and the best topic areas to cover, we are asking our members to please fill in the below form.
This form will serve as both an Expression of Interest (EOI) as well as inform us of the top topic areas of interest. This may include topics such as E-commerce, Getting Your Business Online, Social Media, Marketing Calendar/Marketing Mix, Marketing Strategy, Communications Planning etc etc. This is a wonderful opportunity for our members to get complimentary 1on1 mentoring by local specialists. Note that participants will be chosen on a basis of 'most in need' as well as first in first served. Be sure to get your EOI in today.
Federal Budget
Our partners at Business Hunter believe the 2022-23 Federal Budget provides targeted support for businesses grappling with the pressures of skills shortages, bouncing back from the pandemic and the rising complexity of the digital economy. For reactions and summaries of the recent federal budget announcements visit Business Hunter Media Release.
Upcoming Federal Election
The federal election is all but set to take place mid May, with the official election date still to be announced.
Scone is part of the Hunter New England electorate which covers the rich agricultural districts of the New England tablelands and north-west slopes in northern New South Wales. From south to north, main centres include Scone, Murrurundi, Quirindi, Tamworth, Armidale, Glen Innes, Inverell and Tenterfield.
For information on candidates and the election see here.
The Chamber is looking at a potential 'Meet the Candidates' forum opportunity and currently working with candidates to set a date which we are hoping will take place during the first week of May. Once we have an election date we will be able to confirm this event. Please stay tuned for more information.
Scone Chamber Strategic Plan
The Chamber Board and staff have been working closely with local businesses and strategic partners to develop what will be our 2 Year Strategic Plan. This is an incredibly exciting time for the Chamber who are looking at new directions, firming up priorities and developing actionable goals for the future. We will be sending out our plan for consultation in the very near future. Keep an eye out and please feel free to offer your feedback and thoughts. Your feedback is extremely important to us.
Featured Business
HIVE FITNESS – PASSIONATE ABOUT HELPING PEOPLE
Catching up with some old school friends years after school had finish and seeing how they'd struggled with their health and fitness after being exposed to the real world, Joseph was motivated to help and give-back to them and other members of my community who struggle with their health and fitness.
The Scone Chamber relies on memberships to exist. By becoming a member, you are helping a local organisation support local business. Chamber memberships also help to build a strong and connected local business community – whereby we are all working together. Membership is only $110 per year and comes with an array of Member benefits, where our members always come first.