Welcoming you all to 2022
The year is new and the Chamber is optimistic about the future. The start of the year has been a bumpy one for many, seeing the Omicron wave of the Covid pandemic create new challenges for many. Many of our businesses are still struggling and many even more than during lockdowns, according to some of our members. The good news is that there is still help out there. The bad news is we are going to have to continue finding ways to pivot our business and rise above adversity for the time being. This may sound easy for some but for many, it's a challenge they don't know if they will come through the end of. As a Chamber, we are committed to supporting you in any way that we can. We have said it before and we will say it again, if we are all in this together, we have a better chance of getting through. Building a connected business community is at the core of what we do. We are committed to taking this ride with you.
First Chamber Breakfast of the Year
We loved seeing everyone again at the Chamber's first Breakfast for 2022 where we covered our exciting plans for 2022, as well as heard from our guest speaker, Brooke Reynolds, from Hunter based HR firm, Skildare, who performed a short masterclass on 'Key HR Considerations for 2022 – Covid and Beyond'.
Brooke was incredibly informative and passionate about the subject, giving many of our local businesses something to think about, particularly on vaccinations in the workplace, succession planning, and flexibility, among other things. If you couldn't attend and have any questions or concerns regarding your staff or business obligations, give Skildare a call for a health check. They are extremely experienced and really know their stuff. Having an in-house HR team is not possible for most businesses and having an external consultant can keep you on track when it comes to things like Staff Awards and your legal obligations as a business owner.
What's on the Horizon
The Chamber is extremely excited to finally announce some projects and initiatives we have planned for 2022. These include:
Projects in the Pipeline
Organisational Strategic Plan – 3 Year
Extended Business Development Officer Hours
New Website and Members Portal
New Technology for Business Hub
Events, Networking and Support
Digital Business Bytes Series
Black Dog Institute Mental Health in the Workplace Training
Chamber Workshop Series
1 on 1 Mentoring Opportunities
Various Networking Breakfasts and Events
Community Events, both Chamber run and Supported
Speaking of events! We have a big one just around the corner…
Small Business Month 2022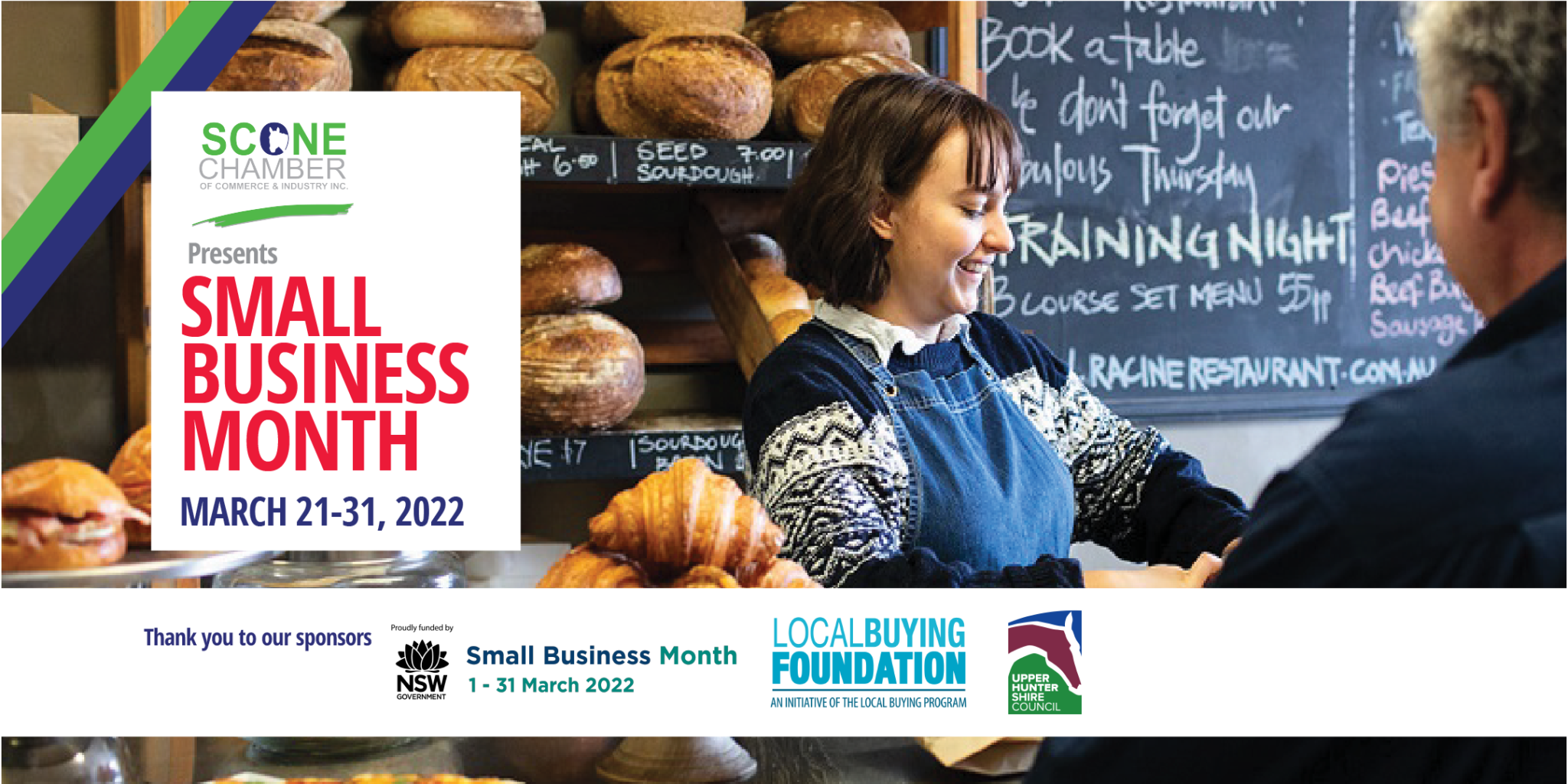 Small Business Month is the perfect time to not only connect with your local business community but to be inspired. Whether you're a professional or business owner, don't miss out on taking part in the Scone Chamber's incredible 2022 Small Business Month program. Recharge with our Expo and Workshops, Breakfast or special Finale Dinner. Across the events will be a trade fair, guest speakers, workshops, keynotes and more. With March also being international Women's Day, you are sure to see loads of inspiring women among the line-up.
Tickets and registrations open on February 24. Be sure to keep an eye on our event page for more info and ticketing. You can also subscribe to our email list to get notified when tickets are available.
Would you like to Sponsor Small Business Month? As a non-for-profit and local Chamber, we rely heavily on funding opportunities and the support of businesses to sponsor and support our initiatives. We would love to speak to anyone interested in sponsoring this wonderful event. There will be lots of opportunities available for businesses willing to get onboard. Get in touch today.
Scone Literary Festival
Unfortunately, much of this year's Scone Literary Festival is being postponed which means our Literary Fest Breakfast is also being moved. We are hoping to run this is November this year so stay tuned for updates. We are sorry for anyone looking to attend.
Covid Update
Support
While many of the previous government supports have closed for businesses such as JobSaver and Covid Small Business Grant, there is still a range of grants and funding options available as well as new is available such as The 2022 Small Business Support Program , designed to help businesses survive the immediate impact of the Omicron COVID-19 strain. It is for the month of February only.
Check out our up to date Guide to Covid Support here for more information on Covid related government support as well as links to a Loans and Grants Support Finder.
Rules
The rules are constantly changing for businesses and individuals, making it at times quite difficult to keep up with. Be sure to regularly check the updates on the COVID Rules for Business page and keep an eye on the NSW Health and Government Facebook pages for daily updates to restrictions etc.
Items of Interest
There are several funding and other interesting initiatives available for businesses at the moment. Be sure to check them out. 
Free workshops on tendering for NSW Government work
Thursday 24th February 2022, 6pm – 8pm
Wednesday 9th March 2022, 9am – 11am
Wednesday 23rd March 2022, 6pm – 8pm
NAIDOC Local Grants I Submit by 22nd February
Indigenous and non-indigenous organisations can apply for local or regional NAIDOC activities that align with the 2022 theme, Stand Up! Show Up!
Coles Nurture Fund I Up to $500,000 I Submit by 25th February
Australian producers of food or liquor are eligible to apply for funding to support their big ideas for innovation and/or growth.
Regional Job Creation Fund – Round 2 I Up to $5,000,000 I EOI Due 18 February 2022
The Regional Job Creation Fund aims to support economic recovery and resilience in regional NSW by activating, bringing forward or attracting investment through co-funded business projects that create at least five sustainable new jobs.
As always, if you need anything please reach out. We are always here to support you and your business.
BECOME A MEMBER
The Scone Chamber relies on memberships to exist. By becoming a member, you are helping a local organisation support local business. Chamber memberships also help to build a strong and connected local business community – whereby we are all working together. Membership is only $110 per year and comes with an array of Member benefits, where our members always come first.